LWS & G. K. Enterprise proud Partners !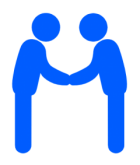 Lifework Sakura K.K. is pleased to announce it's partnership with G. K. Enterprise, a highly reputed ISO Consulting firm from India !!
ISO certification is globally recognized, and is borderless. You can get certified by an authorized firm from anywhere on earth!

If you are a small company and recognize that ISO certification can assist you to optimize operations as well as increase your business opportunities, we can assist you to get you certified fast at a reasonable price !
Lifework Sakura K.K. will serve as your local point of contact and support information gathering and documentation in Japanese or English.
G.K. Enterprise will take the lead on training, documentation, and the internal audit.
As a team, we will ensure you obtain the ISO certificate from a certified body, with a sense of urgency as well as responsibility!
Please feel free to contact us in English or Japanese and we can help you succeed on your ISO journey !!